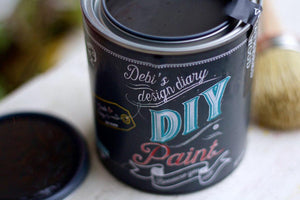 Black Velvet DIY Paint ™ is hands down the best artisan clay & chalk finish furniture paint in the industry. Using only the highest quality NO VOC pigments in the industry, DIY Paint ™ is velvety soft, lusciously creamy, and creates a luxurious color dimension you have to see to believe. DIY Paint ™ is eco-friendly containing only (9) nine total ingredients, including all-natural clay and chalk.

8 OZ SAMPLE JAR. Perfect for a small project like a chair or a small side table.
16 OZ PINT. Usually more than enough to complete a good size piece of furniture.
32 OZ QUART. Covers approximately 150 square feet will cover several pieces of furniture.