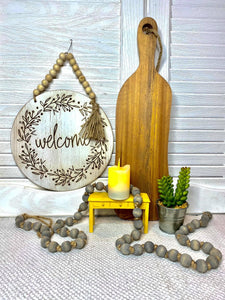 This little vignette can be used in so many ways. Be sure and Join the private Facebook group Latte's Homies for videos on tips and tricks how to style your box items with things you probably already have. 
The beaded circle sign can be layered  over a door wreath, or on a command hook alone. Find a shelf with a hook and hang it there. Layer it over a mirror you have hang a empty frame and put this in the middle.
The cutting board can be used when serving cheese, crackers and grapes.  Or you could stand it up layered in front of a couple of other cutting boards, or rolling pins. This may be weird but you can use it to cut things on as well. 
The flameless candles I can't get enough of. They add a cool atmosphere to any place you put them worry free. Put it in a tray on the counter with your soaps and lotion. Or stack some books, with it on a candle holder. Or in front of a mirror and it will reflect even more ambience. 
The beads are so cute and could be draped over and around many things. 
The little doll furniture is a pop of fun and color for any grouping. I added paint and a brush so if you just can't handle queen been yellow you can paint it neutral. FYI, I sell this paint. 
The succulent layers with all sorts of things and it makes me smile knowing it will live on despite my black thumb. 
Please share pictures in the Facebook group. So excited you are in my club.